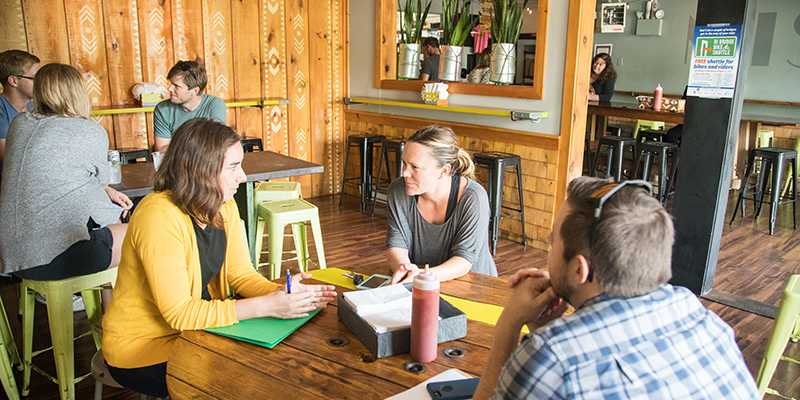 Newport Restaurants Are On Board to Reduce Plastic Pollution
Header image: Clean Water Fund organizers and one of the owners of Mission strategize the best way to reduce single-use items in the restaurant. Photo credit: 11th Hour Racing
Clean Water Fund (CWF) launched its ReThink Disposable program to engage Newport restaurants, businesses, marinas, and yacht clubs about offering less single-use plastic items and more sustainable alternatives. Two local restaurants, Mission and Diego's, opted to enroll in the ReThink Disposable program and implemented recommendations from CWF to reduce single-use products. 
This grant project, part of our Ambassador program, was spearheaded by Ambassadors Andy Green and Jamie Haines. The two joined forces and worked with Clean Water Fund to implement the ReThink Disposable program here in Rhode Island. Green and Haines began with the initial business outreach that the program required, enabling CWF to focus instead on developing the auditing and recommendation processes. The CWF used its waste calculator to estimate reductions and cost savings from diverting single-use products for the two participating restaurants, both located in Newport, Rhode Island. 
Six months after implementation, Mission and Diego's shared the results of their new practices.
Mission
Mission, who prides itself on "Good grub, good beer, good vibes," immediately implemented two of CWF's recommendations. By implementing an ask-first policy for straws, Mission was able to divert a projected 34 pounds of waste generated from offering single-use straws. Mission has also seen a drastic decrease in napkin usage after removing them from the tables and installing napkin dispensers, which requires its patrons to get up to get a napkin. Six-months after implementing these changes, Mission has diverted a projected 125 pounds of waste generated by single-use products.
Diego's 
Diego's is situated on Bowen's Wharf in the center of Newport's Waterfront. Since the first meeting with CWF, Diego's took it upon itself to voluntarily implement ReThink Disposable practices. The restaurant has eliminated single-use plastic by implementing an ask-first policy for straws and take-out cutlery kits. Since replacing single-use plastic cups with reusable tumblers for drinking water, which cost the restaurant $98 to implement, Diego's diverted 453 pounds of single-use plastic cups from entering the landfill and saved approximately $498 over a six-month period. To introduce others to this program, folks that dine at Diego's are greeted by the ReThink Disposable logo printed on all receipts.
"Diego's was excited to become part of the Clean Water Fund's ReThink Disposable program this spring. We are a locally owned and operated, grass-roots company that is always looking for ways to help better the community we serve, so this was an easy choice," recounted Scott Kirmil, Owner, Diego's. "We had already implemented many practices to help reduce our carbon footprint as a company, but Rethink Disposable helped us make a few more changes that will help protect the environment, so we are psyched to come onboard and for the support."
Diego's has incorporated a waste-reduction mindset into employee training programs, and the overall work culture at its restaurant.
A combined effort
Over the six-month period, Diego's and Mission experienced a combined savings of over $800 by implementing a waste reduction plan. Moving forward, the projected savings annually for both restaurants combined will equate to 1,156 pounds of single-use plastic waste diverted, and approximately $1,600 in savings. 
In addition to the support received from 11th Hour Racing, CWF plans to develop new partnerships to expand ReThink Disposable in Newport, as well as to Providence, Central Falls, and Pawtucket.